Beauty & Self
Books & Music
Career
Computers
Education
Family
Food & Wine
Health & Fitness
Hobbies & Crafts
Home & Garden
Money
News & Politics
Relationships
Religion & Spirituality
Sports
Travel & Culture
TV & Movies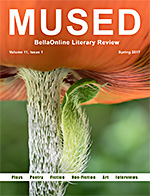 In our modern world of 24-hour diners and around-the-clock email, it sometimes seems as if we've lost track of nature's cycles. But then the Spring Equinox comes along and reminds us to pause. For thousands of years, cultures around the world have recognized this one special day as representing a balance of light and dark. It's a unique moment in time where our world settles in equilibrium – just for a breath. And then the sunlight shines out and pulls us deeper into Spring.

Enjoy the Mused Spring Equinox 2017 Issue



Fabric Yo-Yos
Sewing - Cheryl Ellex, Editor

Fabric yo-yos, or fabric rosettes, are those delightful gathered circles sewn from little more than a round disc of fabric and a running stitch so quick and easy to make and yet a pleasant way to make use of colorful fabric scraps.




Making Father's Day Gifts
Crafts for Kids - Launa Stout, Editor

What kind of things does your dad like? What does he like to do in his spare time? Figure this out and it will be easier to decide what to make him for Father's Day.




Jungle Tales - Book Review
Children's Books - Launa Stout, Editor

Although this book was originally written and published in 1918 by Horacio Quiroga (1878-1937), this edition of the book was translated to English by Jeff Zorrilla.




Tomato Juice and Sperm Motility
Infertility - Hannah Calef, Editor

Regular tomato juice consumption may help to improve sperm motility




Typhoid Mary
History - Vance Rowe, Editor

Typhoid Mary infected numerous people in New York city with typhoid. Some people died from it s well. She was quarantined to a clinic for almost 30 years of her 69 years of life.




Strength Training Effective and Efficient
Exercise - Terri Lindy Johansen, Editor

When you're developing your workouts it is important to keep in mind that your thorough strength training program needs to include effectiveness and efficiency. Includes a great strength training program for beginners.


| Google+ |
E D I T O R R E C O M M E N D E D
TomTom ONE 130s GPS


Looking for a great GPS unit for your car? The TomTom ONE 130s is a great, moderately priced GPS system with text to speech capabilities. Spoken street names and TomTom´s EasyPort mounting system make this a terrific GPS unit!
Spirit Beach - Paranormal Romance Novel


When Renee Simone stumbles on the legend of John Henry Covington, the man with the mesmerizing eyes in the ominous portrait at the Covington B & B she and Adrian find out too late that a vampire's lust for love and blood never dies. Fear grows as the gusty sea spray and wind persuasively invites her to a personal audience with a ghost… "I´ve been waiting for you, Renee."
Caillou Goes Back to School DVD


Caillou Goes Back to School DVD is great for kids who are Caillou fans, and other kids who enjoy watching shows that depict family life.