Beauty & Self
Books & Music
Career
Computers
Education
Family
Food & Wine
Health & Fitness
Hobbies & Crafts
Home & Garden
Money
News & Politics
Relationships
Religion & Spirituality
Sports
Travel & Culture
TV & Movies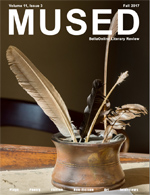 Autumn is a season for counting our blessings. For realizing just how much we have in life where so many others are without. It can often be easy to take things for granted. Things which millions of people desperately dream of having. By pausing for a moment, and looking around with mindfulness, we can find a new center. Begin with fresh energy.

Enjoy the Mused Autumn Equinox 2017 Issue



Milk and Education
School Reform - Maeve Maddox, Editor

School Reform at BellaOnline.com




Relationship With Jesus
Baptist - Celestine A. Gatley, Editor

Developing a close and personal relationship with Jesus Christ builds confidence in knowing that we shall have what we ask. Jesus is a rewarder of those that diligently seek him. Developing a closer walk with Jesus can be very rewarding in many ways.




Flaxseeds and Infertility
Infertility - Hannah Calef, Editor

Adding flaxseed to your diet may help your cycles to be more fertile, improve hormone levels and reduce annovulatory cycles.




How to Reduce Clutter for Stress Relief
Natural Living - Katherine Tsoukalas, Editor

Learn how to reduce clutter so that you can relieve stress.




All These Perfect Strangers Book Review
Suspense / Thriller Books - Karen Hancock, Editor

Penelope Sheppard has received a scholarship at a prestigious college in Australia. Death seems to follow her around, and three of her fellow students are murdered. There is much suspense in this psychological thriller.




Folklore - Ballads
Folklore and Mythology - Ky Greene, Editor

Ballads are stories set to song, and they have been a part of Folklore since the Middle Ages. While ballads originated with wandering minstrels, the introduction of the printing press caused them to slowly dwindle. Some folk ballads remain today -especially in the mountains - but there has been a tu


| Google+ |
E D I T O R R E C O M M E N D E D
Turn On Your Inner Light by Debbie Mandel


This entertaining book offers easy to implement stress-management tools for 29 common life situations: techniques, visualizations and a fitness workout to get you off the couch. Take back your power and live more energetically. Don't vent - reinvent!
The Divine Home


An absolutely gorgeous home decorating book on how to decorate with spiritual objects such as santos, retablo, milagros, statues of saints, and crucifixes. Many examples of Santa Fe style and Mexican hacienda style, but also examples of homes in NYC and other places. Beautiful full color photographs everywhere. Serene, spiritual.
The 500 World´s Greatest Golf Holes


This is a great coffee table book with photos and narrative describing some of the best golf holes in the world. Makes a great start for your bucket list of golf courses to visit. Published by Golf Magazine.