Beauty & Self
Books & Music
Career
Computers
Education
Family
Food & Wine
Health & Fitness
Hobbies & Crafts
Home & Garden
Money
News & Politics
Relationships
Religion & Spirituality
Sports
Travel & Culture
TV & Movies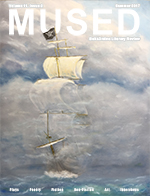 Our time on this Earth is fleeting and precious. We often know that in a vague, intellectual sense, and yet we can find ourselves whittling away those finite minutes without mindful thought. We should celebrate the beauty in a child's smile. The radiant sound of saying "I love you" to that special person. The warm touch of a hand. The delicate scent of a wildflower.

Enjoy the Mused Summer Solstice 2017 Issue



Top Summer Travel Tips For Women
Body Care - BB Lee, Editor

Keep Secure And Safe On Vacation.




Simple T-Shirt Makeovers
Sewing - Cheryl Ellex, Editor

The comfortable-to-wear, go-everywhere casual unisex top is hands down the T-shirt. Modern day tees have become the equivalent of walking product advertisements, designer name branding and for sending personal messages about the wearer's politics, social attitudes, sports, music and much more.




Mexican Ice Cream Book Review
Desserts - Karen Hancock, Editor

Love ice cream? With automatic ice cream machines, it's easier than ever to make it at home. This cookbook has dozens of unique recipes for delicious ice creams, sorbets, and other frozen treats with a Mexican flair.




Confetti 3 Bean Salad Recipe
Quick Cooking - Karen Hancock, Editor

Here is a crunchy, colorful salad to serve with summer food. It can be made the night before, and will become a favorite.




Finding the Right Foundation Undertone
Cosmetics - Katrina Simmons, Editor

Having difficulty picking the right foundation shade? Picking the wrong undertone may be one of the reasons. Learn how to find the right foundation that compliments you.




Dinner in a Biscuit recipe
Cooking for Kids - Kymberly A. Morgan, Editor

Make this delicious portable dinner on those nights when you and your family aren't able to sit down and enjoy eating together. You can also re-heat these for a quick snack on the go.


| Google+ |
E D I T O R R E C O M M E N D E D
Pinnacle Car Care


The Creme De La Creme of Ultimate Car Care is In the House! Using Pinnacle´s product line is like a visit to the salon and the results--magnifique!
Healing Herbs


Unknown facts revealed about herbs. Information that you should know about 80 herbs that treat common health ailments.
Mastering Essential Math Skills


This exercise book is an excellent resource to practice and review math skills you´ll need to establish a strong foundation and smooth transition into Algebra and other higher math courses. Workbooks are available for 4th – 5th grade and middle school / high school.