Beauty & Self
Books & Music
Career
Computers
Education
Family
Food & Wine
Health & Fitness
Hobbies & Crafts
Home & Garden
Money
News & Politics
Relationships
Religion & Spirituality
Sports
Travel & Culture
TV & Movies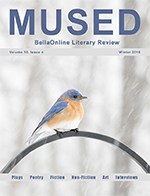 Sometimes it seems as if winter quotes make winter out to be a necessary evil which exists only for us to appreciate the subsequent warmth. Shelley: "If winter comes, can spring be far behind?" Shakespeare: "Now is the winter of our discontent made glorious summer by this sun of York." Hugo: "Laughter is the sun that drives winter from the human face."

But winter is far more than a down against which to compare the subsequent ups. Winter is a powerful, magical time. It is a season of strength. Of looking inward and finding focus. Bob Seger stated, "I write probably 80 percent of my stuff over the winter." Terri Guillemets reminds us, "The color of springtime is in the flowers; the color of winter is in the imagination." The Winter Solstice is a time to embrace the mysterious. The endless possibilities. The sense that we already have, within ourselves, boundless creativity and opportunity. We simply have to still ourselves and listen.

Winter is a powerful season. It gives us that space to look back and learn from our history. To look forward and envision what we wish to become. To be fully mindful of the present and be aware how each day has potential for us to speak out and impact the way our world proceeds. To move us toward peace, fulfillment, and an appreciation of what each of us has to offer.

Happy Winter Solstice.

Enjoy the Mused Winter Solstice 2016 Issue



Forcing Rhubarb
Landscaping - Connie Krochmal, Editor

Forced rhubarb was most popular in Victorian times. The forced stalks are a delectable treat.




Picking tamarind in Bangalore, India
Romantic Getaways - Marianne de Nazareth, Editor

This is the season when fresh tamarind pods fall off the trees & can be collected to make a wonderful sauce.




Wix Website from Scratch - Add a Strip
Digital Art and Design - Diane Cipollo, Editor

In this tutorial we will continue working on our Wix website which we are building from scratch. We will add our first strip on the page.




Cajun Voodoo Stuffing Recipe
Quick Cooking - Karen Hancock, Editor

Here is a delicious Cajun side dish to serve with your favorite blackened chicken, shrimp, fish, or steak. It's perfect to serve on Mardi Gras, but you'll want to serve it all year round, It's easy since it starts with boxed stuffing mix.




Jeweled Mardi Gras Pudding Recipe
Desserts - Karen Hancock, Editor

Mardi Gras is a fun holiday, and if you don't have an opportunity to celebrate in New Orleans, you can have a party at home. This dessert is sparkling with Mardi Gras colors, and it's quick and easy.




How To Keep Stamps In Shape
Stamps - Gary Eggleston, Editor

Collecting stamps, for some people, is more than just a hobby—it's a lifestyle. In fact, the world has been witness to decades upon decades of stamp collecting. Case in point: the American Philatelic Society (APS) with its 44,000 members—the biggest membership in the entire world—was founded as earl


| Google+ |
E D I T O R R E C O M M E N D E D
Suzanne Somers´ Eat Great, Lose Weight


No one knows the struggle of dieting and weight loss better than Suzanne Somers. Through experimentation and countless consultations with physicians, she lays out a fool proof plan on how to eat great food and still lose weight.
How to Write Sexy Descriptions and Sex Scenes


by Val Kovalin, your BellaOnline editor for the Romance Novels and Fiction Writing sites. This is for writers of erotic romance fiction (M/F and M/M). Part 1 gives writing advice. Part 2 shows how to write sexy descriptions about the human body from head to toe. Part 3 discusses male-male romance fiction, and Part 4 details the common elements of a sex scene.
Ordinary People as Monks and Mystics


This non-denominational book is appropriate for any religious path, and helps you to explore your spirituality whether you are more of a mystic or more of a monk. Both approaches are valid.