Beauty & Self
Books & Music
Career
Computers
Education
Family
Food & Wine
Health & Fitness
Hobbies & Crafts
Home & Garden
Money
News & Politics
Relationships
Religion & Spirituality
Sports
Travel & Culture
TV & Movies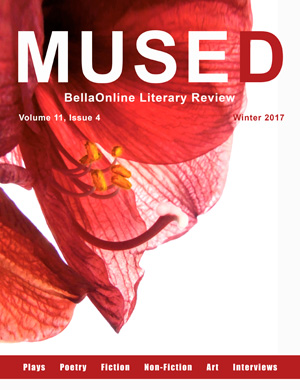 We all travel on this blue-green ball around our very own star each year, sliding a little closer, sliding a bit further away. The balance is critical. Too much closer and we'd roast. Too much further away and we'd freeze.

We should be aware of just how blessed we are that our Earth is "just right" - and do what we can to keep our world healthy. It's the only one we have.

Enjoy the Mused Winter Solstice 2017 Issue



10 Great Tips For Planning A Family Cruise
Cruises - Nancy Schretter, Editor

Cruises are great choices for family vacations. Cruise lines offer a wide variety of exciting itineraries and there's something for everyone onboard today's cruise ships. If you're planning a family cruise, here are ten tips for making it your best vacation ever.




Scented Hand Cream For Dry Skin
Fragrance - Juliette Samuel, Editor

Got dry skin, especially on your hands? If you've tried cream after cream with no success, maybe it's time to make your own batch. Try this recipe and tell us what you think!




Elderberry for Health and Wellness
Ethnic Beauty - Juliette Samuel, Editor

Health and wellness has become the mantra of the day and elderberry is a flower that's being used when helping you achieve that goal. Learn more about the elderberry bush.




Travel Hints For Keeping Track Of Luggage
Senior Travel - Hazel M. Freeman, Editor

Here are some precautions you can take to help minimize the anguish of not seeing your bag revolve around the baggage carousel at the end of your trip.




The Way of Holiness
Christian Living - Lynne Chapman, Editor

A highway straight into God's holy city.




Florida National Cemetery
Florida - Georgiana Kurtz, Editor

Florida National Cemetery, located near Bushnell, is worth a visit, even if you don't have a loved one buried there, as a way to pay tribute to those who have served in the U.S. Armed Forces. It is a place of peace and beauty.


| Google+ |
E D I T O R R E C O M M E N D E D
Jesus of Nazareth


Award winning film produced by Franco Zeffirelli, depicts the life of Jesus Christ from birth to resurrection. Originally made for television in 1977, this set is available on DVD or VHS. It´s been a few years since I last watched this awesome depiction of Christ´s life, but it still remains one of my favorite.
True Balance by Sonia Choquette


This terrific guide gives you fun, everyday ideas with which to open and strengthen all seven of your chakra energy-centers, including the third-eye chakra and crown chakra which help you to connect with psychic phenomena and the divine.
From Pain to Parenthood


Follow one woman´s incredible and heartfelt journey from the pain of miscarriages to the joy of becoming a parent through adoption. Filled with honest, raw emotions and helpful coping tips, "From Pain to Parenthood" promises to touch your life with a real story that shows the power of the human spirit and the beauty of a mother´s love.